26th May 2016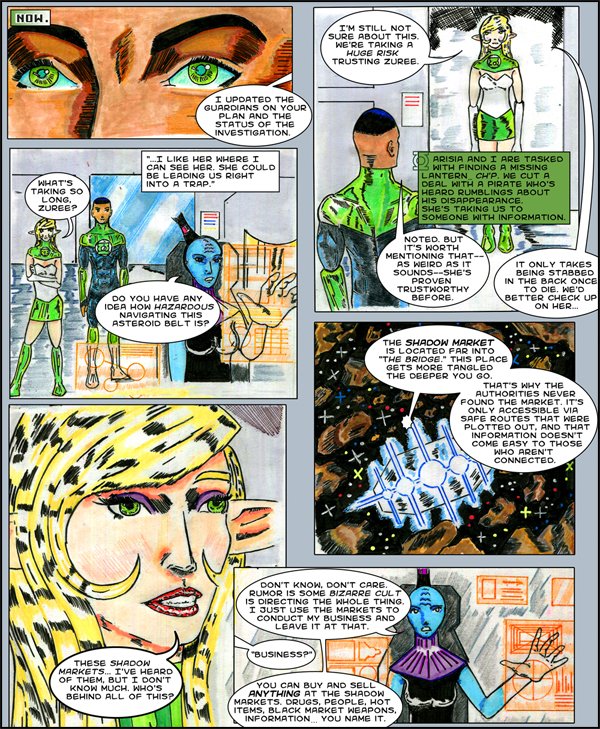 Welcome back to Green Lantern: Starlit Crisis! Take a look at pages one through five of issue #2, as well as the cover:
Cover
Title page
Page 1
Page 2
Page 3
Page 4
Page 5
I would like to give a huge thanks to those who have supported Starlit Crisis and GreenLantern.Co through the accompanying Patreon page. You are playing a big part in helping to keep the project going. To everyone else, if you enjoy Starlit Crisis and want to see more, please support it with an amount you're comfortable with by clicking the big orange "Become a Patron" button on the Starlit Crisis Patreon page:
GreenLantern.Co Patreon
I love making Starlit Crisis, I know and am flattered that others love it, and I'd like to keep on making it and I can with sufficient support. If this is the entertainment you're looking for, then PLEASE SUPPORT THE BOOK! Also, spread the word by telling your friends or anyone you may think would be interested, and follow me on twitter by clicking the blue button at the end of this post to keep up with all Starlit Crisis updates!
If you're totally new to Starlit Crisis, you can catch up by reading Chapter One at the link below:
Chapter 1 – The Quest Begins! (Welcome to a Brand New Crisis)
Be on the lookout for more Green Lantern: Starlit Crisis content. It will be coming very soon! Thank you for all your feedback and support, and for taking the time to check out the project.


Follow @deshderringer

---