Green Lantern: Starlit Crisis
---
by Desh on April 13, 2016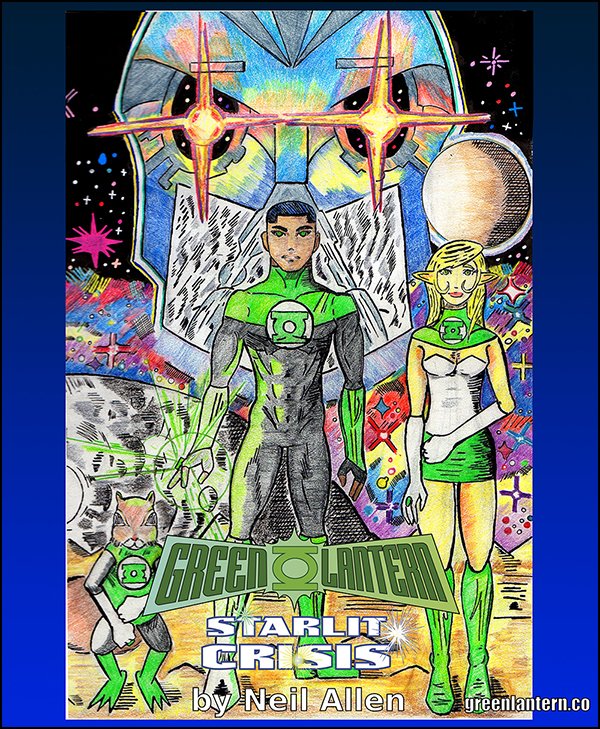 ---
Green Lantern: Starlit Crisis is the comic John Stewart has deserved since 2001, when he made his fateful animated debut on the hit show Justice League. When he became a hero to millions and millions of people. When he became the Green Lantern to an entire generation.
It is a comic by someone who loves John Stewart and appreciates what the character has accomplished, and recognizes what the character means to others. It is a story for them; those others who love John Stewart, or anyone looking for a great comic.
With Starlit Crisis, you are not getting face plates. You are not getting tokens. You are not getting wallpaper. You are not getting missing genitalia. You are not being ignored, marginalized, or downplayed.
Starlit Crisis is the work of one person, Neil Allen, also known as Desh. Rather than sit on the sidelines and complain about what I don't like in comics, I believed it was more productive for me, for the fans, and even for the professionals, if I set out to actually make the comic that I would like to read. It's been a wonderful experience, and I've learned many new things along the way. I am delighted to have something to share with you.
Starlit Crisis is quite an undertaking, especially for one person… especially when that person has never made a comic prior to this. If you enjoy the project, I ask that you consider lending a hand toward keeping it going through its Patreon account, where you can pledge a certain amount of money each month that you're comfortable with. It's very easy to do, and though Starlit Crisis will always be totally free for anyone to read, your generosity would go a long way toward keeping the project afloat. If you're already used to buying comics, you can think of this as another comic you'd like to support.
If you're wondering exactly how Patreon works, the short video below will shed some light on it.
I hope you enjoy reading Starlit Crisis as much as I enjoy making it!

---