January 2016 Solicitations: Green Lantern Corps: Edge of Oblivion #1 and Justice League #48
---
by Desh on October 19, 2015
2016 will open with a bang for John Stewart fans. His new series, Green Lantern Corps: Edge of Oblivion, with Tom Taylor writing and Ethan Van Sciver illustrating, will be released, as will Justice League #48, which looks to feature John finally joining in the "Darkseid War." Take a look at the solicitations and covers for these issues below: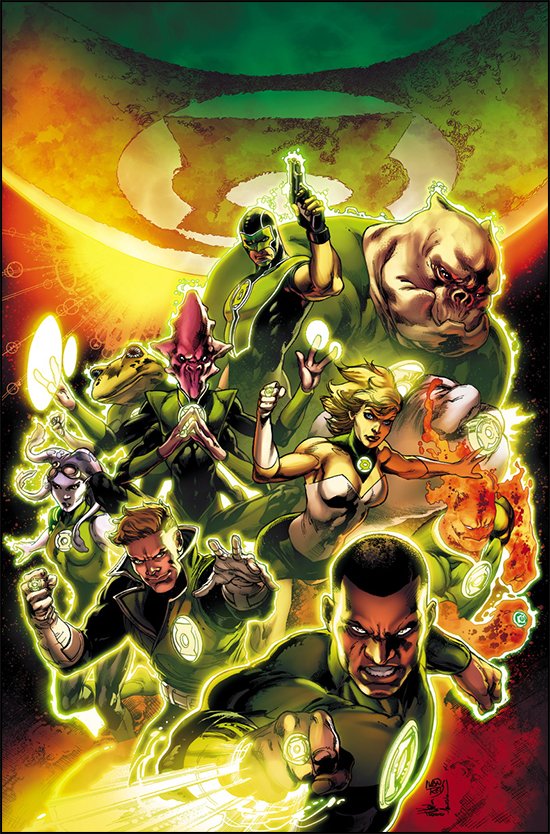 GREEN LANTERN CORPS: EDGE OF OBLIVION #1
Written by TOM TAYLOR
Art and cover by ETHAN VAN SCIVER
1:25 Variant cover by IVAN REIS and JOE PRADO
On sale JANUARY 13 • 32 pg, FC, 1 of 6, $2.99 US
RATED T
Retailers: This issue will ship with two covers. Please see the order form for details.
Picking up where GREEN LANTERN: LOST ARMY left off! As the universe around them reaches entropy, the Green Lantern Corps must find a way home! Along the way, they'll face dying gods, worlds torn asunder and a desperate group of survivors whose only hope is these cosmic heroes.
JUSTICE LEAGUE #48
Written by GEOFF JOHNS
Art and cover by JASON FABOK
Adult Coloring Book Variant cover by SCOTT KOLINS
On sale JANUARY 20 • 32 pg, FC, $3.99 US • RATED T
Retailers: This issue will ship with two covers. Please see the order form for more information.
The epic "Darkseid War" continues as the League is forced to unite with their evil counterparts, the Crime Syndicate, to defeat the nigh-omnipotent Anti-Monitor! Plus, what is the terrible secret behind Superwoman's newborn child?
First up, some thoughts on Edge of Oblivion. It looks like it will be using the "Green Lantern Corps" title instead of "Green Lantern," which is wise, since there is a Green Lantern Corps movie on the way. As such, DC and WB should start focusing more on that particular brand. The solicitation doesn't tell us much that we didn't already know from announcements made earlier this month. Edge of Oblivion will replace Lost Army and continue that storyline. The art we're seeing from Edge of Oblivion is an Ivan Reis variant, and it looks good. I like that Arisia is drawn with longer hair, as I think she looks better like that, though Reis could have eased up some on her biceps and deltoids.
Ethan Van Sciver will be doing the regular cover, and that has yet to be seen. Van Sciver is an excellent artist, but from everything I've seen, I prefer the work of Jesus Saiz, the Lost Army artist, and I will be missing his input to John Stewart's world. His characters display emotion excellently and naturally, and he has great designs for each character that aren't too exaggerated. Still, if there is going to be a new artist coming on, Van Sciver is as good as they come, and the Corps book may receive an influx of new readers with him returning to do a six issue Green Lantern mini-series, as his six part Green Lantern: Rebirth was a huge hit.
Concerning Justice League, first off, I'm not happy to see John with facial hair. That look for him just never clicked with me, and I always associate it with him having some kind of crisis in his life, since it originates from Justice League Unlimited, when he tried to pick himself up from his traumatic break up with Hawkgirl, to arguably not very good avail. I'm going to guess that a reason behind artist Jason Fabok (and/or writer Geoff Johns) giving him that look may have something to do with two Black males being in the story (yes, I'm going to go there). Perhaps they (or one of them) think Cyborg and John Stewart are too similar in appearance, and the addition of facial hair can make it easier to distinguish between them. But with one having a giant metal plate on his face and a glowing red eye, I don't think that would be a problem. At least John Stewart is not bald. Hopefully DC will eventually have John shave and give him his traditional clean shaven, crew-cut look. There is nothing wrong with it.
Moving on, John Stewart teaming with Hal Jordan in a Geoff Johns penned title is potentially a recipe for huge disaster for John Stewart and his fans, if Geoff Johns' nine year Green Lantern run is anything to go by. In that run, John Stewart was the oft ignored Black Best Friend to Hal Jordan, so I can't say seeing Geoff Johns return to these particular characters fills me with tons of confidence that John Stewart will have a great showing. That said, Johns did say that he was extensively researching John Stewart's history, so perhaps he's going to make an effort to do right by the character this time around.
To give Geoff Johns the benefit of the doubt, one could argue that his Green Lantern run simply was not about John Stewart. He was hired to return Hal Jordan to prominence, not to focus on and build up John Stewart. To counter that, however, it could be said that nine years of sidelining a character who is a large part of the mythos you're overseeing, a prominent figure on Cartoon Network at the time, and the company's greatest and most popular ethnically diverse character is a bit much and a very unwise move if one is at all concerned with expanding the demographics of comics readers, which DC should be concerned with, since–let's face it–America is getting browner and browner.
In any event, I'll be there to see what these titles have to offer, and I encourage you readers to be as well.
Follow @deshderringer

---