Green Lantern Corps #40 Review
---
by Desh on March 14, 2015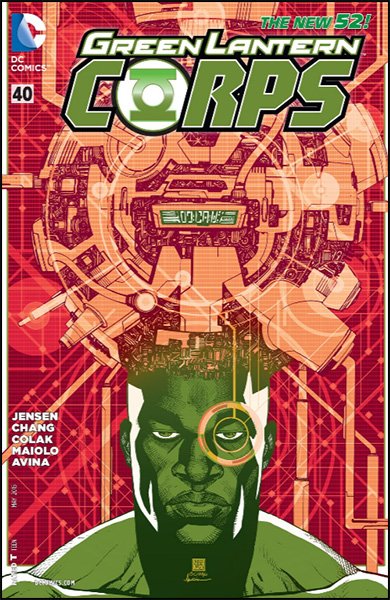 Van Jensen, Marcelo Maiolo, and Bernard Chang's Green Lantern Corps run is officially over. I've mentioned it before, but it is my favorite run of any Green Lantern comics. See what the .Co review has to say about Green Lantern Corps #40.
"Van Jensen takes advantage of the opportunity that is granted to him by rewriting the event of Xanshi's destruction, and making it far less damning to John Stewart. In my review for Secret Origins #9, I wrote that I wouldn't trust anyone more than Jensen to write a new John Stewart origin, and the same goes for a rewrite of the Xanshi incident. Jensen has more than earned the trust of the John Stewart fanbase, and he tops off his run with a love letter to John's fans, which cleans up a terrible moment in John's past and gives him a bright future."
Though Green Lantern Corps is over, don't despair. John Stewart's adventures will carry on in Green Lantern: The Lost Army, due out in June. Keep an eye on GreenLantern.Co for more information on the upcoming series.
---

Bernard Chang is celebrating the end of his Green Lantern Corps run by giving away the interior art for Green Lantern Corps #40. Check out his Instagram post below to see how to enter the running.
a big thanks to all the #greenlanterncorps fans and my teammates over the last two years!!! issues 21-40 have been some of the most challenging and yet rewarding work of my career. as a show of my appreciation, I am going to give away ALL of my original interior art pages from the historic final issue 40 to you!!! I am cutting up all the pages into individual panels (except pgs 17, 19, 24-25, and 28, which will be raffled off). all you have to do is buy two copies of glc40, keep one and give one away to a friend (or stranger) in your store. Instagram a picture of you holding both copies either outside or inside your local comic book store. you must also include tags: @thebernardchang #greenlanterncorps40 and # (name of your comic book store or Instagram/Twitter handle, like #ultimatecomics or @ultimatecomics ). then, direct message me on Instagram w a separate picture of the receipt to verify your purchase (you will have to add me and turn your profile to public so I can verify). I will accept entries thru this weekend 3/16 or until panels run out (approx 65-70). on Monday 3/17, I will raffle off the remaining whole pages to all who participated in this contest. sorry, but this is limited to hard copy sales (no digital) and only in the US. I will cover all shipping costs.
I would totally do this, but I buy my monthly comics digitally.
Van Jensen has taken to his tumblr and written another message to the fans about his experience writing John Stewart for two years:
"Today sees the release of Green Lantern Corps #40, the last issue of the title and my last issue as writer after a two-year run.

It's been a pretty incredible time, both in terms of writing the series for 20 issues and the professional and personal changes I've seen over those two years.

I was hired to write the series almost exactly two years ago, amid a little controversy, and I had all of a week to write my first script. GLC #21 was the first single-issue comic I ever scripted, as well as my first foray into superhero comics. It was the moment that I went from a little-known indie comics guy to a mainstream writer.

It was a true trial by fire, and I jumped headlong into it. I struggled to keep my head above water at the start, and it was only through the guidance from Robert Venditti and editors Matt Idelson and Chris Conroy that I made it through. Also, I was blessed to work with incredible artists in Bernard Chang and Marcelo Maiolo, and, later, Mirko Colak and Tony Avina.

It was, in every way, a dream come true. I leave looking back and seeing things I could've done better, but I have zero regrets.

GLC will always be a special book for me. It launched my career in comics. It was while writing the series that I left my job as an editor (a job I really loved, btw) to write full time. I also became a dad, which has been the biggest life change of all.

So, while every ending is bittersweet in part, I leave GLC happy. I wrote the stories I wanted to write. I challenged myself and found my footing. I dove into the job I've wanted since I was 5.

The future is bright."
http://van-jensen.tumblr.com/
Van, Bernard, and Marcelo know that we're seriously going to miss them. For quite a few of us, they reignited our interest in Green Lantern. I wish all of them the best, and I hope that they return to John Stewart someday.
Follow @deshderringer

---